Centralize your

pre-trade market analysis.
Streamline the pre-trade workflow, standardize the market analysis procedures, and save time and effort when finding the best market opportunities to meet your needs. It's all part of Trade Hub with the Veson IMOS Platform (VIP).
Transform your pre-trade workflow.
The Veson IMOS Platform's (VIP's) Trade Hub is a centralized workspace for pre-trade market analysis and opportunity assessment. Trade Hub empowers users to seamlessly aggregate and visualize internal and external deal inputs in a single system to identify opportunities with minimal time and effort.
Experience VIP Trade Hub for yourself.
Discover how VIP Trade Hub brings new visibility, efficiency, and standardization to pre-trade planning.
With VIP Trade Hub, you can:
Better understand supply of vessels that can move your cargo.
Narrow trade options with set constraints according to your vetting requirements.
Calculate Equivalent Market Rate by performing a high-level TCE calculation for each trade.
Rank results of available vessels to determine the best match for your trade.
Validate with market analysis including market price trends and forward curves.
Comprehensive analysis in a single workspace.
Here's some of what VIP Trade Hub can do.
Easily Identify Supply in the Market
Identify each potential opportunity.
Search and view open vessel positions based on their latest AIS data, broker emails, or operational information in a specific defined geographical area. Narrow these results by refining your search by specific parameters, integrations with a vetting system, or position lists.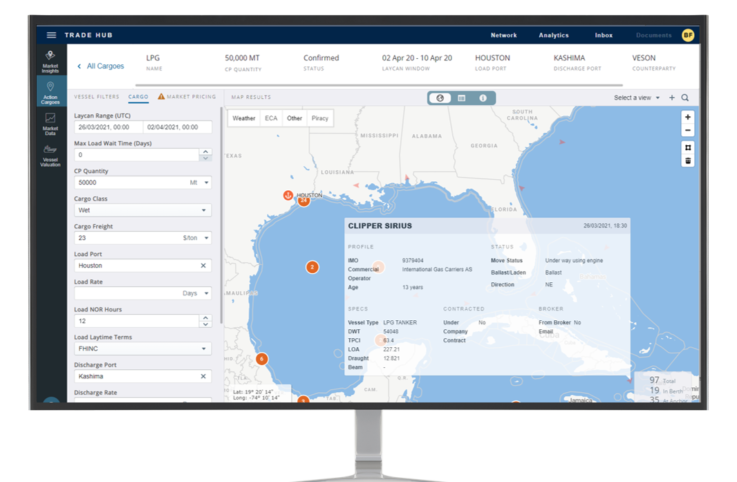 Find the Best Vessels for Your Cargo
Take action on each cargo.
Action each cargo that exists within your VIP operational database. Find vessels that meet the requirements for a specific cargo and pull them into a worksheet for further evaluation – seamlessly integrated into your standard fixture process.
Evaluate Market Trends and Spend
Standardize market analysis.
Compare different freight and market routes over time, historically and on a spot trend basis. A graphical representation of freight and bunker market comparisons helps you quickly determine trends and spread, so you can make trade decisions in the context of market trends and forward rates.
VIP Trade Hub offers an unprecedented one stop solution for pre-trade market insights and market opportunities analysis. Users can now seamlessly aggregate and visualize internal and external deal inputs in a single system to identify opportunities with minimal time and effort.

–Josh Luby,

Senior Product Manager, Veson Nautical
You Might Also Be Interested In…
Insightful Content & Resources on Trade Hub
Brought to you by our team of commercial maritime technologists.
Webinar
Veson's newest module, VIP Trade Hub, Launches April 13. In this webinar, Senior Product Manager Josh Luby provides an introduction to and demonstration of the solution. Join us to learn first-hand what Veson's newest module can do.
View the Webinar
View the Webinar
Brochure
Download the Brochure
Download the Brochure
Watch the Video
Ready to transform your pre-trade workflow?
VIP Trade Hub is only the beginning. Allow us to show you how VIP can transform your entire commercial workflow.