Webinar
Enabling Sustainable Freight Decisions
Understanding and managing the carbon impact of your marine operations.
The role of the commercial maritime shipping platform has always been empowering stakeholders to understand and manage all of the many variables that have a commercial impact. But decision support in today's dynamic maritime shipping ecosystem requires even more variables to be considered, including environmental sustainability.
Today, amid widespread focus on ESG and evolving industry-wide requirements, emissions have claimed their permanent place as a crucial criterion in commercial decision making. Join us for our upcoming webinar to discover how you can make more sustainable decisions today and tomorrow.
What You'll Learn:
How emissions have become an essential facet of commercial maritime decision making.
Why sustainability is a top priority for every vertical in the maritime shipping ecosystem.
How the commercial platform or VMS should support more sustainable decision making.
3 ways the Veson IMOS Platform empowers sustainable decisions throughout the workflow.
Our strategy to address emerging requirements like carbon expense management, sustainability metrics and decision points, and carbon exposure management.
And more…
In this webinar, Eric Christofferson, Chief Product Officer, and Ayodele Fashakin, Director of Global Commercial Solutions Consultants, will discuss the growing importance of emissions in commercial decision making and explore how the Veson IMOS Platform provides the decision support necessary to support more sustainable freight decisions today and tomorrow.
Who Should Attend
Vessel owners and operators focused on reducing emissions to improve compliance and counterparty relationships.
Tonnage charterers aiming to enhance environmental responsibility throughout the supply chain and work with sustainable carriers.
Anyone interested in learning more about the commercial maritime shipping solution's role in sustainable decision making.
---
Meet Our Presenters
Eric Christofferson
Chief Product Officer
Eric's vision and leadership are integral to shaping the ever-evolving Veson IMOS Platform (VIP). As the maritime shipping ecosystem continues to be transformed by a wave of digitalization, Eric works collaboratively with our team to ensure that Veson remains at the forefront by continually delivering new and innovative capabilities that drive real value for our clients.
Ayodele Fashakin
Director of Global Commercial Solutions Consultants
Ayo Fashakin joined Veson Nautical in 2011, and now serves as the company's Director of Global Commercial Solutions Consultants (CSC). In this role, Ayo is leading the growth of Veson's new CSC team, which supports the commercial organization with technical demonstration and expertise.
We have much more to explore.
Explore the useful content and resources below.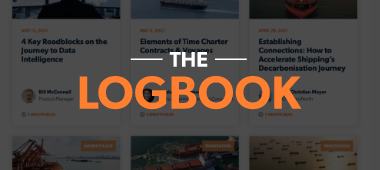 Maritime Shipping Blog
Discover articles on maritime shipping technology on the Veson Nautical blog.
Resource Center
Check out our robust library of content spanning multiple topics and formats.
Learning Portal
Explore continual learning resources and certification courses.