Dynamic solutions to

propel maritime commerce.
Accelerate your digital journey and navigate the realities of your business with a market-leading commercial platform and high-integrity insights.
For your voyage management workflows.
As the market's leading platform for commercial freight and fleet management, the Veson IMOS Platform delivers a suite of connected solutions to handle every part of the maritime workflow. Trusted by over 18,000 users across some of the world's leading vessel owners, operators, commodity traders, and tonnage charterers, VIP is transforming the way the maritime world works and makes decisions.
For your market intelligence.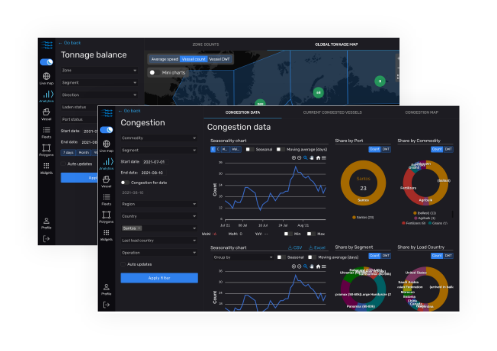 Oceanbolt is an innovative market intelligence platform for the maritime and commodity trading space. By combining a best-in-class AIS processing engine with a proprietary geospatial database of berth polygons, Oceanbolt delivers high-integrity insights in an intuitive, web-based interface to inform and strengthen decision making.
THE CHALLENGES WE SOLVE
Delivering solutions to

solve the maritime world's most critical challenges.
Marked by rapid digital transformation, evolving regulations, and market movements, today's maritime shipping landscape is exceedingly complex. Discover how we empower maritime shipping organizations to address their most pressing challenges.
Exposure Management

Manage and mitigate freight, bunker, and commodities exposure through operational and market-linked insight.


Regulatory Risk Management

Systematically manage risk associated with evolving regulations across the globe.


Enterprise Visibility & Decision Support

Empower stakeholders with complete visibility across systems and stages of the workflow.


Process Efficiency

Streamline business processes to minimize redundancy, time, and manual workflows.


Environmental Sustainability

Manage emissions and access robust decision support inclusive of environmental impacts.

Revenue Maximization

Gain full P&L visibility and understand the commercial impact of each and every decision.

Cost Control & Reduction

Contain seaborne supply chain costs at scale to enhance your financial position.


Data Standardization & Integration

Strengthen connectivity between internal or external systems and stakeholders.


Growth & Expansion

Pursue fleet or supply chain expansion with scalable systems and processes.

More than the right platform.

The right partner.
As the most experienced services organization in the maritime world, Veson Global Services is committed to helping you maximize value throughout your digital journey.
Tap into our proven expertise in project management, implementation, system integration, and change management.
Provide your users robust training and continuing education resources through Veson University and around-the-clock support.
Grow alongside our platform with progress reviews, cloud migration services, process mapping, and best practice training.
THE CLIENTS WE SERVE
A vast and growing client community

on all sides of the maritime contract.
We measure our success by our clients' success. Our client community includes leading organizations from all sides of the trade. Each of them considers our solutions integral to their daily workflows.
Insightful Content & Resources
Brought to you by our team of commercial maritime technologists.
Brochure
Founded to transform the way the maritime world works and makes decisions, Veson Nautical's proven, best-in-class solutions propel new business connectivity, efficiency, agility, and profitability for the world's leading buyers and sellers of maritime freight. Today, more than 15,000 maritime professionals rely on the Veson IMOS Platform (VIP) in their day-to-day work.
Download the Brochure
Download the Brochure
View the Webinar
Infographic
Download the Infographic
Download the Infographic
Ready to optimize decision making and enhance your commercial success?
Veson Nautical delivers the tools you need to bring new efficiency and insight to commercial freight and fleet management. Discover the power of our proven platform and partnership.