Intelligently match your vessels and cargoes

in optimized schedules.
Improve the efficiency, effectiveness, and agility of your scheduling workflows with a proprietary scheduling algorithm, auto-assisted vessel scheduling, visual suggested estimates, and the ability to make adjustments based on real-time operational insights. It's all part of the Schedule Optimizer with the Veson IMOS Platform (VIP).
Transform your scheduling workflow.
The Veson IMOS Platform's (VIP's) Schedule Optimizer module provides dynamic, data-driven scheduling that enables schedulers to confidently compile and compare best-case schedules and save valuable time through maritime scheduling automation.
With VIP Schedule Optimizer, you can:
Optimally match vessels and cargoes with a proprietary scheduling algorithm.
Test potential schedules before you commit to decisions and utilize resources.
Maximize business agility by adapting to real-time operational data.
Reduce human error that can impede the scheduling process with an automated, centralized workspace.
Streamline the maritime scheduling process from anywhere you are.
Everything you need to optimize your cargo book and open-vessel position list.
Here's some of what VIP Schedule Optimizer can do.
Proprietary Scheduling Algorithm
Generate optimized voyage schedules instantly.
The Proprietary Scheduling Algorithm in VIP Schedule Optimizer generates optimized, automated voyage scheduling scenarios for consideration based on two key user-prioritized variables: percent of laycans met and TCE of the voyage scenario.
Visual Suggested Estimates
Compare estimates and take decisive action.
Visual Suggested Estimates in VIP Schedule Optimizer enable schedulers to rapidly compare multiple estimates and choose from a variety of optimal actions, including saving or deleting the estimate, locking it in, reviewing remarks, viewing cargo, or overriding the laycans.
Real-Time Adjustments
Adapt to evolving realities.
Fully integrated with your operational data, VIP Schedule Optimizer considers evolving realities, including delays and performance adjustments, to ensure its recommendations are always optimized for the needs of your business.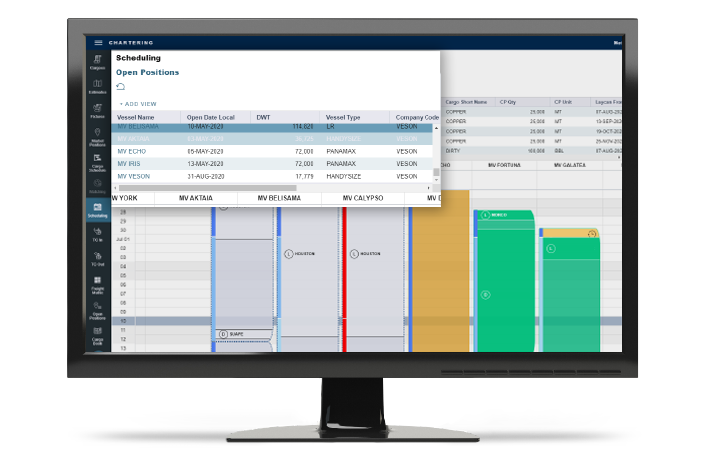 The Veson IMOS Platform already houses all the contractual information necessary to feed into an optimization algorithm, such as CP quantities, vessel capacity and class, port restrictions, and more. The operational information that sits at the core of VIP updates in real time, which ensures the results produced by VIP Schedule Optimizer reflect the most accurate information, adjusting for any delays or adjusted performance.

–Josh Luby,

Product Manager, Veson Nautical
You Might Also Be Interested In…
Insightful Content & Resources on Scheduling
Brought to you by our team of commercial maritime technologists.
Brochure
Schedulers manage multiple vessels and cargoes and are continuously balancing sensitive variables; often the best fit today is not the best fit tomorrow. As a result of this position, schedulers are subjugated to a lot of stress and significant room for error. VIP Schedule Optimizer adds accuracy and simplicity to the process, intelligently matching cargoes and vessels basis key parameters to target specific results and present optimized scheduling scenarios for consideration at the push of a button.
Download the Brochure
Download the Brochure
Watch the Video
Download the Brief
Ready to transform the way you schedule?
VIP Schedule Optimizer is only the beginning. Allow us to show you how VIP can transform your entire commercial workflow.