Webinar
3 Ways to Elevate Your Use of Market Intelligence
Brought to You by the Veson Nautical INNOVATE Series
Driven, in part, by regulations like IMO 2050 as well as a widespread focus on reversing the course of climate change, maritime shipping organizations are unanimously focused on achieving a set of aggressive sustainability targets. These goals can only be reached through collaboration and innovation. Join us for a dynamic webinar focused on the importance of these two elements in shaping a more sustainable future for maritime shipping.
What You'll Learn:
Key facts about growth in data capture and analytics tools in commercial maritime shipping.
How to build a strong foundation for negotiations and estimates using turnaround data.
How to proactively address deviations from charter party agreements using fleet event data.
How to analyze ballast legs with Oceanbolt Python SDK.
How the Oceanbolt Destination Prediction Model can deliver added value to your organization.
And more…
In this webinar, Veson Nautical's Director of Product Management, Niclas Dæhli Priess, and Director of Commercial Strategy, Graham Piasecki, will moderate and explore three key use cases for more effective market intelligence usage. Participants will gain rich insight into the practical application of market intelligence as made possible by the Oceanbolt Market Intelligence platform.
Who Should Attend
Maritime shipping professionals who commercial operate voyages.
Supply chain stakeholders who make decisions related to seaborne cargoes.
Anyone who is looking to harness market intelligence to improve decisions.
---
Meet Our Presenters
Niclas Dæhli Priess
Director of Product Management
Niclas joined Veson Nautical in 2021 as part of the Oceanbolt acquisition and oversees product development for Oceanbolt. Prior to joining Veson, Niclas co-founded Oceanbolt where he was responsible for the go-to-market efforts. Niclas has a background in investment banking and private equity investing.
Graham Piasecki
Director of Commercial Strategy
Graham joined Veson Nautical in 2012 as a Commercial Manager in the APAC region. Since that time, he has served in many leadership roles within commercial operations and strategy. In his time at Veson, Graham has engaged directly with Veson's current and prospective clients to proactively understand and satisfy their needs.
We have much more to explore.
Explore the useful content and resources below.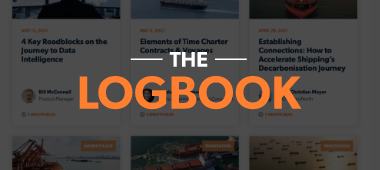 Maritime Shipping Blog
Discover articles on maritime shipping technology on the Veson Nautical blog.
Resource Center
Check out our robust library of content spanning multiple topics and formats.
Learning Portal
Explore continual learning resources and certification courses.