Webinar
Achieving Sustainability Goals within the Maritime Industry
Only Possible by Collaboration & Innovation
Driven, in part, by regulations like IMO 2050 as well as a widespread focus on reversing the course of climate change, maritime shipping organizations are unanimously focused on achieving a set of aggressive sustainability targets. These goals can only be reached through collaboration and innovation. Join us for a dynamic webinar focused on the importance of these two elements in shaping a more sustainable future for maritime shipping.
What You'll Learn:
Key facts about sustainability within the maritime shipping ecosystem.
The three key pillars of sustainable decision making, enabled by technology.
How innovation can shape more sustainable decisions throughout the voyage lifecycle.
Why collaboration is integral to achieving sustainability goals.
How ZeroNorth and BunkerMetric are leading the charge to improve sustainability in maritime shipping.
In this webinar, Veson Nautical's Chief Product Officer, Eric Christofferson, will moderate and explore the three pillars of more sustainable decision making and discuss their role throughout the maritime shipping lifecycle. Participants will gain a new perspective on the Veson IMOS Platform's sustainability-focused innovation, Oceanbolt's reporting capabilities for Marine Protected Areas, and learn from guest presenters from both ZeroNorth and BunkerMetric.
Who Should Attend
Stakeholders who are involved directly or indirectly with the seaborne supply chain.
Maritime shipping professionals who commercially operate voyages.
Anyone who has a vested interest in a more sustainable future for maritime shipping.
---
Meet Our Presenters
Eric Christofferson
Chief Product Officer, Veson Nautical
Eric's vision and leadership are integral to shaping the ever-evolving Veson IMOS Platform (VIP). As the maritime shipping ecosystem continues to be transformed by a wave of digitalization, Eric works collaboratively with our team to ensure that Veson remains at the forefront by continually delivering new and innovative capabilities that drive real value for our clients.
Anders Mayntzhusen
Chief Revenue Officer, ZeroNorth
Coming from the Danish-founded customer service tech company Dixa, Anders recently joined ZeroNorth as the newly appointed Chief Revenue Officer. Under his guidance, Anders will help to position the organization on a similar trajectory to other tech start-ups, targeting exponential year-on-year growth metrics over the next four years.
Christian Plum
Co-founder, BunkerMetric
Christian Plum has worked for 15 years in the intersection of Shipping, Bunkers and Digitization. He is Co-Founder of BunkerMetric, whom provides Analytical IT tools for the Bunkering Industry, tools who give support for Operators, bunker buyer, sellers and brokers by giving overview of supply, demand and costs in their markets.
Valeria Surk
Product Specialist, Veson Nautical
As Veson Nautical's subject matter expert on sustainability, Valeria engages with Veson's Product Development team to understand user needs and prioritize features and capabilities that deliver the greatest possible value to the Veson IMOS Platform (VIP) user community.
Niclas Dæhli Priess
Director, Oceanbolt Product, Veson Nautical
Niclas joined Veson Nautical in 2021 as part of the Oceanbolt acquisition and oversees product development for Oceanbolt. Prior to joining Veson, Niclas co-founded Oceanbolt where he was responsible for the go-to-market efforts. Niclas has a background in investment banking and private equity investing.
---
Get to Know Our Co-Sponsors
ZeroNorth helps vessel owners and operators operate their vessels more efficiently to reduce CO2 emissions, supporting the industry's drive towards more sustainable development, and to increase earnings. The company has its headquarters in Copenhagen, Denmark. ZeroNorth Optimise securely integrates with the Veson IMOS Platform to allow a seamless transfer of data for joint customers. The solution activates Veson IMOS Platform fleet and vessel data in new ways by combining it with ZeroNorth's comprehensive vessel, weather, port, and market data.
BunkerMetric is a leading global provider of bunker planning and optimization solutions for shipowners and charterers. Its cornerstone product, BunkerPlanner, helps vessel operators around the world reduce bunker costs and improve decision transparency across bunkering, chartering and vessel operations desks, helping to ensure regulatory compliance and dramatically improve financial results. Relevant voyage itinerary and activity reporting data from the Veson IMOS Platform can be imported directly into BunkerPlanner. The solution performs analyses within the context of a voyage's commercial, regulatory, and operational obligations.
We have much more to explore.
Explore the useful content and resources below.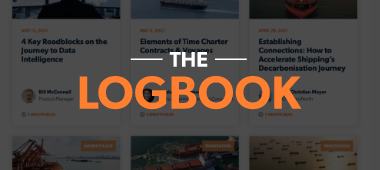 Maritime Shipping Blog
Discover articles on maritime shipping technology on the Veson Nautical blog.
Resource Center
Check out our robust library of content spanning multiple topics and formats.
Learning Portal
Explore continual learning resources and certification courses.