Webinar on demand
Empowering Data-Driven Decisions for All Sides of the Trade
An inside look at the Oceanbolt Platform.
Join us for an inside look at Oceanbolt, an innovative platform for maritime and commodity trade flow data intelligence, recently acquired by Veson Nautical.
Oceanbolt has been designed from the ground up to empower users with both real-time and historical commodity trade flows, freight tonnage flows, live and accurate vessel positions, port congestion, port activity, and turnaround times.
In this webinar, we will discuss the analytics that are generated and available within Oceanbolt's intuitive user interface, highlighting the API first strategy that was employed to bring data to life within the platform. Consumers of data today require not only an elegant, easy-to-use interface, but are also hungry for programmatic access to derive their own value from their systems of choice.
Register now to learn how Oceanbolt is uniquely positioned to deliver data critical to participants on all sides of the trade in an easy-to-consume format.
All webinars will be available on-demand after the live session for your viewing.
ACCESS THE RECORDING
This webinar is only for Veson Nautical Clients. If you are interested in accessing the recording, please complete the form and your account manager will share the video.
Who Should Attend
Commercial shipping stakeholders interested in using data to drive decisions.
Commodities and cargo stakeholders looking to enhance deal making.
Data intelligence professionals within the maritime space.
---
Meet Our Presenters
John Veson
CEO
John is a co-founder of Veson Nautical. His passion for solving complex problems, continuous innovation, and working closely with clients is a core value for the entire organization. John has been associated with Veson since 1992 and was instrumental in creating the architecture for the company's Integrated Maritime Operations System (IMOS).
Niclas Dæhli Priess
Director, Oceanbolt Product, Veson Nautical
Niclas joined Veson Nautical in 2021 as part of the Oceanbolt acquisition and oversees product development for Oceanbolt. Prior to joining Veson, Niclas co-founded Oceanbolt where he was responsible for the go-to-market efforts. Niclas has a background in investment banking and private equity investing.
We have much more to explore.
Explore the useful content and resources below.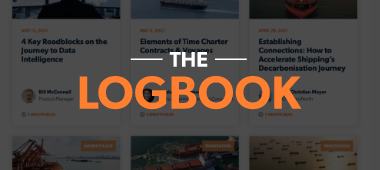 Maritime Shipping Blog
Discover articles on maritime shipping technology on the Veson Nautical blog.
Resource Center
Check out our robust library of content spanning multiple topics and formats.
Learning Portal
Explore continual learning resources and certification courses.