Webinar
The Case for Change
Real-Life Perspectives on Building Business Buy-in
For maritime shipping organizations, the business case is integral to selecting the right solution, gaining critical stakeholder engagement, aligning objectives, and positioning your implementation for success. But when do you need to start building a business case, and how can you transform it from an elusive document to a tangible tool for your organization? Join us for a webinar to discuss practical, real-life perspectives on the business case and its role in building buy-in.
What You'll Learn:
Signals and scenarios that indicate it is time to build a business case.
Key characteristics that all good business cases have in common.
Applied perspectives on the 7 key components of the business case.
Helpful tools and resources to help you build buy-in within your organization.
And more…
In this webinar, Veson Nautical's Vice President of Global Account Management, Greg Wilkins, will be joined by Chris Starks of Deloitte, Andrew Hoare of Clearlake Shipping, and Su Yin Anand of South32 to discuss the crucial role of the business case and its real-life impact from the vantage point of Veson clients.
Who Should Attend
Project champions that are in an active solution search and need to build buy-in.
Leaders that are re-evaluating their solution but haven't yet initiated a search.
Anyone interested in learning how to build a strong business case and apply it in a practical way.
---
Meet Our Presenters
Chris Starks
Senior Manager, Deloitte
Chris Starks is a leader within Deloitte Consulting's Logistics Practice.  He leads logistics cost reduction and performance improvement programs enabled by technology within the oil, gas and chemicals industry.
Andrew Hoare
Managing Director, Clearlake Shipping
Andrew Hoare is the Managing Director of Clearlake Shipping, based in Singapore, where he oversees the day-to-day chartering activities and leads Clearlake's management team.
Andrew has almost 30 years of experience in the shipping industry, with prior experience at a senior level at some of the world's leading maritime and shipping service groups including BW Maritime, BW LPG, Navig8 Goup, the Kuok Group and Clarksons Platou.
Su Yin Anand
Head of Shipping, South32
Spending 15 years as a maritime litigator before taking over as head of the shipping team at an Australian mining house, Su Yin Anand is now Head of Shipping at South32.
A confident leader and strategist with a strong growth mindset, Su Yin believes that working hard and doing the right thing will always lead to the right outcome.
Greg Wilkins
VP Global Account Management, Veson Nautical
At Veson, Greg is responsible for growing revenue as well as developing the sales strategy and international sales team that make that possible. Greg is a veteran of software sales management and business development with more than 23 years of experience.
---
Get to Know Our Co-Sponsors
We have much more to explore.
Explore the useful content and resources below.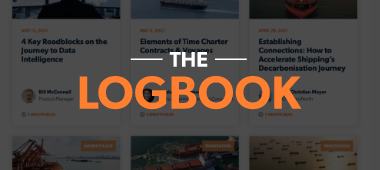 Maritime Shipping Blog
Discover articles on maritime shipping technology on the Veson Nautical blog.
Resource Center
Check out our robust library of content spanning multiple topics and formats.
Learning Portal
Explore continual learning resources and certification courses.